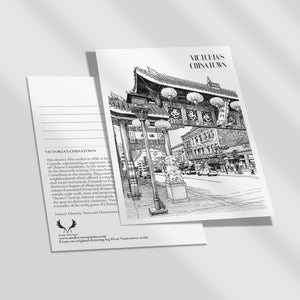 Greetings from Victoria, British Columbia! We are thrilled to present to you this captivating artist postcard featuring the vibrant and culturally rich Chinatown of BC's capital city.

Step into a world of vibrant colors, tantalizing aromas, and a tapestry of diverse cultures as you explore Victoria's Chinatown, the oldest Chinatown in Canada. This postcard transports you to the bustling streets, where the fusion of Chinese heritage and Victorian architecture creates a truly unique atmosphere.

On the back of this postcard, you'll find fascinating insights into the history and significance of Victoria's Chinatown. Learn about the early Chinese immigrants who arrived in the 19th century, their contributions to the development of the city, and the vibrant cultural traditions that continue to thrive today.

Thank you for choosing our artist postcards, and may this exquisite memento transport you to the vibrant streets of Victoria's Chinatown, where East meets West in a harmonious blend of tradition and modernity.
Size: 5.5"L *4" W