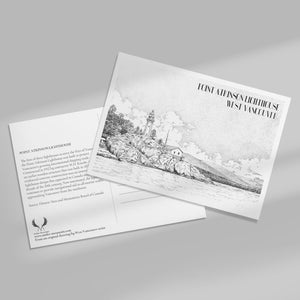 Greetings from the picturesque Point Atkinson Lighthouse! We are delighted to present this captivating artist postcard showcasing the timeless charm and maritime heritage of this iconic landmark.

Perched on the rugged cliffs of West Vancouver, the Point Atkinson Lighthouse has stood as a guiding beacon for sailors and a symbol of coastal beauty for over a century. As you admire this postcard, let yourself be transported to the captivating world of maritime history and coastal serenity.

On the back of the postcard, you'll find fascinating insights into the history and significance of Point Atkinson Lighthouse. Learn about its construction, the technological advancements in maritime navigation, and the role it has played in shaping the maritime heritage of the region.

Thank you for choosing our artist postcards, and may this enchanting memento transport you to the rugged cliffs of Point Atkinson, where the beauty of the sea and the enduring spirit of maritime history intertwine.
Size: 5.5" L * 4" W