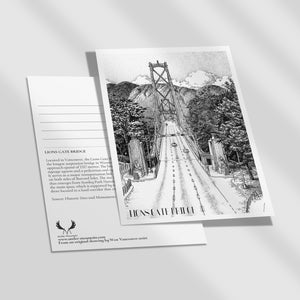 Greetings from the majestic Lions Gate! We are delighted to present this artist postcard showcasing the iconic Lions Gate Bridge, a symbol of Vancouver's beauty and connectivity.

Spanning the Burrard Inlet, Lions Gate Bridge is a testament to human engineering and a gateway to breathtaking adventures in the Pacific Northwest. As you admire this postcard, let yourself be transported to a world where nature's grandeur meets architectural marvel.

On the back of the postcard, you'll find fascinating insights into the history and significance of Lions Gate Bridge. Discover the visionaries behind its construction, the challenges faced during its creation, and the impact it has had on the city's development and identity.

Thank you for choosing our artist postcards, and may this enchanting memento transport you to the mesmerizing world where urban sophistication meets the natural wonders of Vancouver.
Size: 5.5" L * 4" W