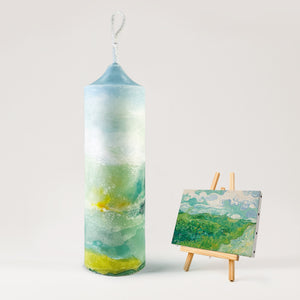 Our exquisite candle, inspired by Vincent Willem van Gogh's (1853-1890) masterpiece "Green Wheat Fields, Auvers." This candle pays homage to the iconic artist, capturing the essence of his distinctive style through the use of palm wax and vibrant colors. With meticulous attention to detail, the candle's design beautifully recreates the painterly textures and vivid hues that define van Gogh's work. As the candle burns, it illuminates your space with a warm, inviting glow, makes you feel like you are in the countryside of Auvers in the haze. 
Ingredients: plam wax, dye
Size: 16 cm H * 5cm D
Weight: 240 g
All candles are handcrafted, slight variations in size, weight, and color may occur.