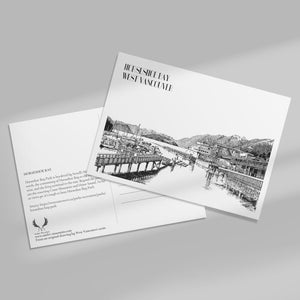 Greetings from the scenic Horseshoe Bay! We are excited to present this captivating artist postcard showcasing the natural beauty and coastal charm of this idyllic destination.

Located on the shores of West Vancouver, Horseshoe Bay is a picturesque coastal village that captures the essence of coastal living and outdoor adventure. As you admire this postcard, let yourself be transported to a world of stunning landscapes and serene waters.

On the back of the postcard, you'll find fascinating insights into the history and attractions of Horseshoe Bay. Learn about its origins as a fishing village, the local marine life that calls the bay home, and the recreational opportunities that make it a popular destination for locals and visitors alike.

Thank you for choosing our artist postcards, and may this exquisite memento transport you to the serene shores of Horseshoe Bay, where natural beauty and coastal charm converge.