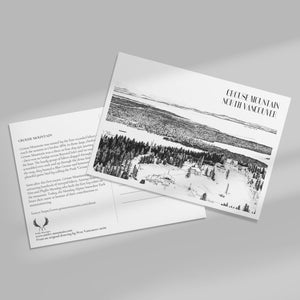 Greetings from the magnificent Grouse Mountain! We are thrilled to present this artist postcard showcasing the awe-inspiring beauty and thrilling adventures that await atop this iconic Vancouver landmark.

Rising majestically above the city skyline, Grouse Mountain offers a unique and unforgettable mountain experience for visitors of all ages. As you admire this postcard, let yourself be transported to a world of panoramic vistas, alpine wonders, and exhilarating outdoor activities.

On the back of the postcard, you'll find fascinating insights into the history and significance of Grouse Mountain. Discover the mountain's role as a recreational haven, its rich biodiversity, and the ongoing efforts to preserve its natural beauty for future generations to enjoy.

Thank you for choosing our artist postcards, and may this exquisite memento transport you to the breathtaking heights of Grouse Mountain, where adventure and natural wonders await.

Size: 5.5" L * 4" W