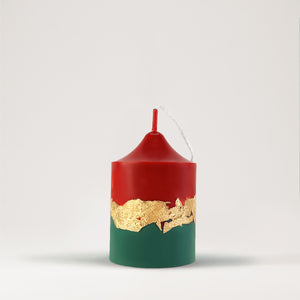 Golden Memories Candle embraces the timeless Christmas color palette of red and green, complemented by irregularly placed accents of shimmering gold foil. It serves as a beautiful reminder of cherished moments and creates new memories to be treasured for years to come.


Scent: a spiced blend of cinnamon, clove and smooth vanilla
Ingredients: soy wax, white beeswax, dye
Size: 7.8cm H *5cm D
Weight: 105 g
All candles are handcrafted, slight variations in size, weight, and color may occur.