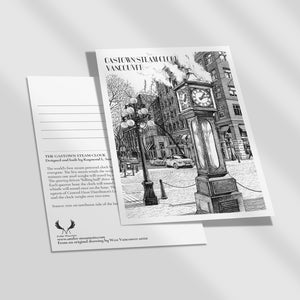 Greetings from Gas Town, Vancouver! We are delighted to present to you this captivating artist postcard featuring the iconic Gas Town Steam Clock.
This remarkable landmark stands tall as a testament to the rich history and charm of Gas Town, the oldest neighborhood in Vancouver. As you gaze upon the postcard, let your imagination transport you to a bygone era when steam-powered technology was at its peak.

Thank you for choosing our artist postcards, and may this charming memento transport you to the nostalgic streets of Gas Town, where the past and present seamlessly intertwine.
Size: 5.5" L * 4" W