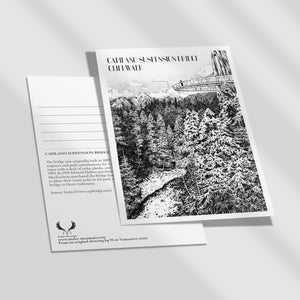 Greetings from the breathtaking Capilano Suspension Bridge! We are thrilled to present this artist postcard showcasing the awe-inspiring Cliff Walk, a thrilling adventure amidst the natural splendor of British Columbia.

Located in North Vancouver, Capilano Suspension Bridge is a world-renowned attraction that offers a unique and exhilarating experience. As you admire this postcard, let yourself be transported to a world of stunning landscapes and adrenaline-pumping adventures.

On the back of the postcard, you'll find fascinating insights into the history and significance of Capilano Suspension Bridge. Learn about the indigenous peoples' connection to the land, the stories of early explorers, and the preservation efforts that have made this site a must-visit destination.

Thank you for choosing our artist postcards, and may this exquisite memento transport you to the heart of the rainforest, where the thrill of adventure and the beauty of nature intertwine.
Size: 5.5" L * 4" W