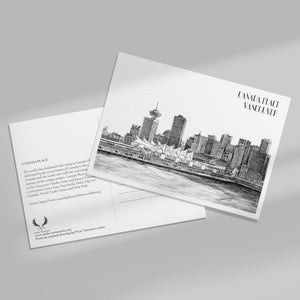 Greetings from Canada Place in Vancouver! We are excited to share with you this stunning artist postcard featuring the iconic Canada Place.

Situated on the picturesque waterfront, Canada Place stands as a symbol of national pride and a gateway to the wonders of the Pacific Northwest. As you admire this postcard, let yourself be transported to the heart of this architectural marvel.

On the back of the postcard, you'll find captivating information about Canada Place, its history, and its role as an iconic landmark in Vancouver. Discover the stories behind its construction and the significance it holds for both locals and visitors.

Thank you for choosing our artist postcards, and may this enchanting memento transport you to the vibrant energy and beauty of Canada Place in Vancouver.
Size: 5.5"L * 4" W