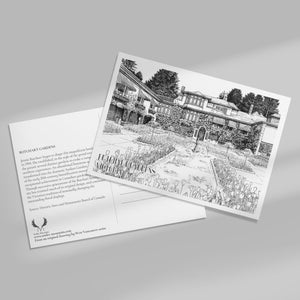 Greetings from the enchanting Butchart Gardens! We are thrilled to present this captivating artist postcard showcasing the vibrant beauty and serene ambiance of this world-renowned botanical paradise.

Nestled in Brentwood Bay, British Columbia, Butchart Gardens is a true horticultural masterpiece that has delighted visitors for over a century. As you gaze upon this postcard, let yourself be transported to a world of blooming flowers, lush greenery, and breathtaking landscapes.

On the back of the postcard, you'll find fascinating insights into the history and significance of Butchart Gardens. Learn about the visionary efforts of the Butchart family in transforming an abandoned quarry into this floral paradise and discover the horticultural wonders that have made it a world-class attraction.

Thank you for choosing our artist postcards, and may this exquisite memento transport you to the magical world of Butchart Gardens, where nature's splendor unfolds in a symphony of colors and scents.
Size: 5.5" L * 4" W