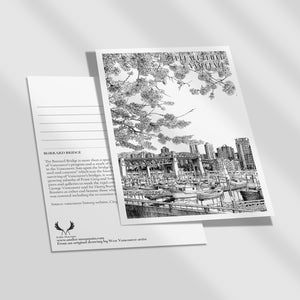 Greetings from Vancouver's iconic Burrard Bridge! We are delighted to present this captivating artist postcard showcasing the timeless beauty of this architectural marvel.

Spanning the sparkling waters of False Creek, the Burrard Bridge is a true testament to the city's engineering prowess and artistic charm. As you gaze upon this postcard, let yourself be transported to the heart of this iconic landmark.

On the back of the postcard, you'll find fascinating insights into the history and significance of the Burrard Bridge. Learn about its construction, its impact on the city's development, and the stories that have woven it into the fabric of Vancouver's identity.

Thank you for choosing our artist postcards, and may this exquisite memento transport you to the enchanting world of Vancouver's Burrard Bridge, where architectural brilliance meets natural splendor.
Size: 5.5" L* 4" W