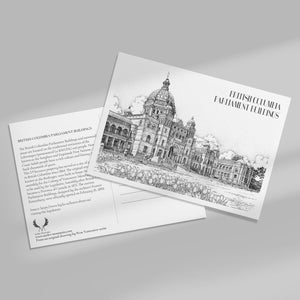 Greetings from the magnificent British Columbia Parliament Buildings! We are delighted to present this captivating artist postcard showcasing the grandeur and historical significance of this iconic landmark.

Nestled in the heart of Victoria, the capital city of British Columbia, the Parliament Buildings stand as a testament to the province's rich democratic heritage and architectural splendor. As you admire this postcard, let yourself be transported to the captivating world of politics and governance.

On the back of the postcard, you'll find fascinating insights into the history and significance of the Parliament Buildings. Learn about the architectural influences, the notable events that have taken place within its halls, and the role it plays in shaping the political landscape of British Columbia.

Thank you for choosing our artist postcards, and may this enchanting memento transport you to the world of democracy and architectural brilliance found within the British Columbia Parliament Buildings.
Size: 5.5" L * 4" W